This page will feature downloads, whether they are backgrounds, artwork, or other things.

Special Updates

April Fool's Day- Mock Comic 90 (2009)

A MUTE'S Christmas (Christmas 2009)

April Fool's Day- Beauty Beauty Love Love (2010)

April Fool's Day- Mock Comic 292 (2013)

Extras

Comics 1 - 50, as told by TF2 (made by Stew)

The Abridged Series (made by tEk)

Backgrounds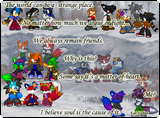 1024 x 756

800 x 600 | 1024 x 756 | 1152 x 864 | 1280 x 1024 | 1400 x 1050 | 1600 x 1200
Related Art
Kitani VS Katai
Details: Drawn based on the original plotline. The fight'll still happen, but there's going to be something different about it...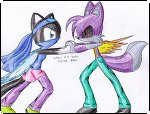 I'll Take You Down
Details: Again, something I thought would happen but didn't. Originally, Rupph was so set on the fact that Katai was not Kat in any way possible that she was going to take on Katai all by herself. End result would be something like what you see in the picture- Rupph saying that if she was going down, "I'll take you down with me." One huge burst of electricity left Katai sparking and floating off to get repaired, while Goon, Dark and whoever else rushed to get the exhausted Rupph some aid before her injuries from the fight got worse.
I'm aware I drew no injuries. Hush.